Customer research, when done right, can enhance every essential aspect of customer marketing. In this article, we'll cover:

What is customer research?
Customer research or consumer research is a vital component of customer marketing's most fundamental role: to understand and market to your chosen target audience.
Consumer research definition:
Consumer research is the act of gathering information about your customers' needs, desires, preferences, and behaviors as it pertains to your product or service.

This type of research can be conducted on current existing customers and/or potential customers. This research seeks to understand why your customers exist in the first place, and why potential customers end up not making a purchase.

In essence, this is about understanding the motivations behind anything your customer does, being able to represent that within your marketing, and how you might be able to influence this in the future.

What is the difference between customer and market research?
Customer or consumer research is most often placed within market research, as a part of a bigger research project. Customer research can also be applied to design research or user research too.

Because customers have such a big influence on how the market, and the businesses within that market, run, it's often the case that, whatever part of the business funnel you are researching, customer research will become a part of the strategy too.

Market research will not exclusively look at your customers, but will analyze and assess the market as a whole. This will include things like competitive intelligence, and analyzing other business models to influence how your own company conducts itself within its chosen market.
Fill out the form to download Intro to Customer Research below to start better understanding your customers.
Types of consumer research
Primary research
Primary research refers to the act of collecting data from a primary source when you conduct a variety of types of data collection and speak to your customer directly. This will include things like focus groups, surveys, social media interactions, and interviews.
Secondary research
Secondary research is carried out by someone else. Your secondary research relies on data collected by someone else. This will be things like online databases, forums, and industry reports.
Quantitative research
Both primary and secondary research comes in the form of qualitative or quantitative research, which offer different levels of information and are often used for different purposes.

Quantitative research is expressed in numerical values and presents simple yet objective facts about your data set. As a result, the data you get from this type of research is not very in-depth but it means a larger proportion of your chosen data group can be represented.
Qualitative research
Qualitative research is more subjective and opinion-based. This type of research is descriptive and often comes from talking in depth to a small number of people from your data set.

Whilst qualitative research won't represent all of your data group, it can offer insights into specific scenarios, motivations, pain points, and more.
Research strategies
In our State of Customer Marketing Report for 2022, we found that most customer marketers spoke to their customers 2-3 times a week (22.2%) and a handful of times a month (22.2%).

Customer marketing research is impossible without this kind of regular contact. Customer marketing is a unique position where it can consistently develop relationships with customer advocates, offering them an immediate resource for qualitative research.

Interaction with your community of customers over social media or forums allows for a similar kind of relationship with a wider audience. In essence, customer marketers can have some customers whom they talk to every single week and others whom they only interact with a few times on social media.
Yet each relationship is invaluable in informing the way you work.

In the same way, your research strategies can vary in the level of contact they need with your customers. Here are a few examples below.
Customer research strategies
A/B testing
A/B testing is an experiment where your customers are shown two different versions of a page at random. These pages are monitored to see which performs best.

A/B testing can be used to assess the effectiveness of a variety of marketing content and tone including email subject bars, headlines, social media posts, articles, and more.

This is a quantitative measure; results will show things like click-through rate and engagement rate.


Pros: A/B testing requires very little interaction with your customers and takes very little prep and monitoring.

Cons: Sometimes it's difficult to understand why one headline performs better than another. If you're looking for results that you can then implement into everyday practices, you'll likely need to talk to customers to get a better understanding of why a chosen word or tone of voice worked better than another.
Case study
A case study is a deep dive into a specific customer's experience with your product and/or organization. Most often, this is referring to a particular instance or instances where the customer you are interviewing interacted with your organization.

Conducting a case study should take you through each stage of the customer's journey. It will highlight what worked well and what didn't work well for their specific use case.

This will give you extensive qualitative feedback about specific scenarios within the customer journey which may produce answers for some unique or previously missed pain points.

Pros: Case studies can not only be used for research but can also be syndicated into other content as testimonials promoting your product to other customers.
Cons: This can be more time-consuming than other forms of research, and will only account for a small percentage of your audience.
Review mining
Review mining is the process of finding and extracting opinions about your organization and product from online review sites. This research will evaluate users' sentiments and feedback about your product.

This type of research allows you to collect qualitative feedback in a way that is less intensive and time-consuming; It offers the opportunity to receive feedback without having to reach out to each of these customers individually.

Pros: Doesn't rely on customer availability. Could highlight certain complaints customers may not tell you about directly.
Cons: The level of information provided by reviews can vary a lot. If you're wanting to learn more about a specific review, you'll have to reach out to customers individually.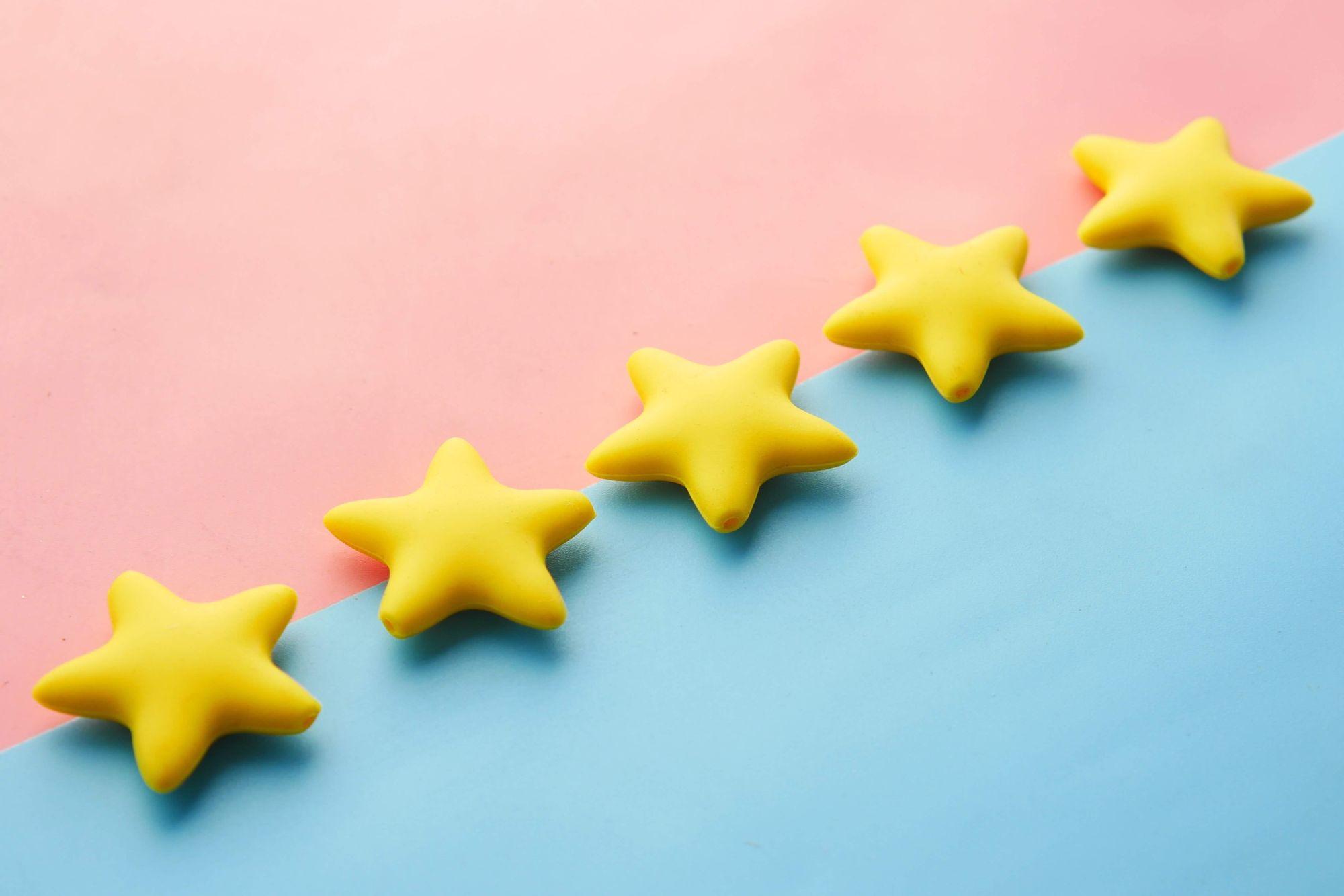 Focus groups
Focus groups gather information by bringing together a small number of customers (usually 6-10) into a room to discuss your organization and product. This can involve your company as a whole, or a specific product, campaign, or concept.

This gives you the unique opportunity to watch and listen to your customers as they interact with each other. Unique qualitative insights may come up that would be missed in a survey or one-to-one interview.

Pros: Enables you to gather a group of your customers to offer insights that you won't get from a one-to-one interview or a survey.

Cons: Heavily monitored type of research. Planning such a group will take more time in order to fit a large number of schedules.

Colleen Johnson goes through a fantastic example of an effective focu group in this episode of Customer Marketing Catch-up: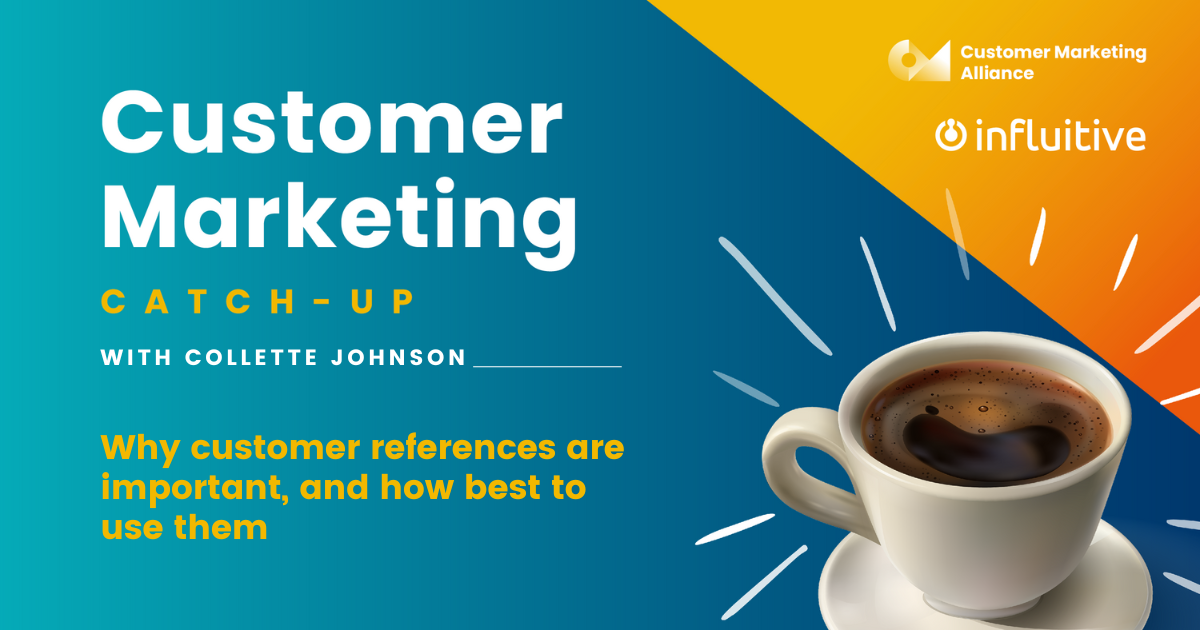 Personas
Personas are fictional profiles used to represent specific groups within your customer base. They will take into account personal needs and pain points, preferred messaging, offers, and products.
Pros: Can be used as a cheat sheet for any internal persons looking to better understand your audience.
Cons: Personas will be produced using data from other research you conduct. You will often have to revisit your personas and update them as your customer base, and your understanding of your customer base develops.
The next steps
Customer research is a topic that can be discussed endlessly. It's always going to be a part of any marketing job, specifically customer marketing. Taking the next steps to perfect your research processes can start with CMA's Customer Research: Masters.

This course involves:
🧠 Expert insights from a customer research connoisseur.
⏰ 3+ hours of course curriculum content.
🛠 7 tried, tested, and vetted templates that'll streamline your practice.
🔥 Bonus footage & fireside chats to supplement your learning.
🔖 Official Customer Research certification to show off to your colleagues.
⏳ Lifetime access to all the course content.