A few months ago we released our Customer Marketing Salary Report. Now, with each one of us being more aware of money and the impact of the economy going into this year, we wanted to share a snippet of the data we collected about global salaries and more.
This article includes:
Average global salary
Before tax, the average global salary for the customer marketers we surveyed was $121,493. This is regardless of experience, gender, location, or other factors. The median salary was slightly lower at $112,500.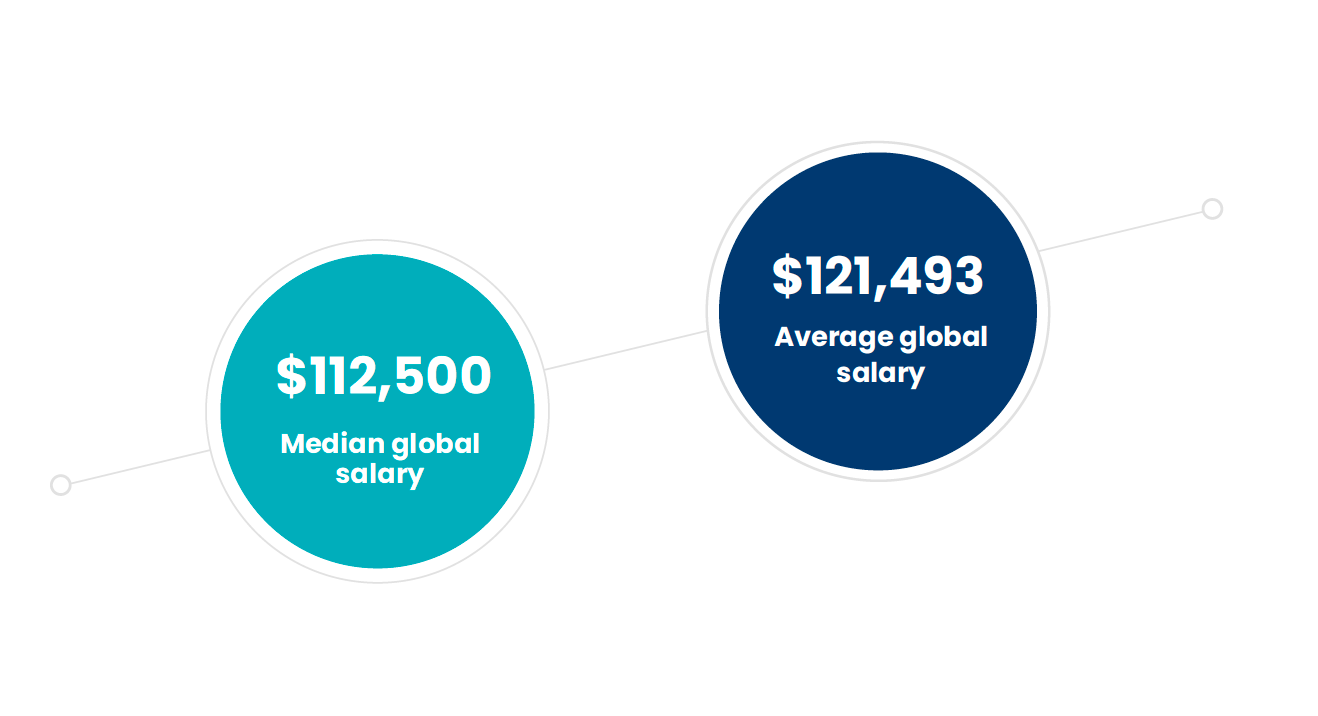 This average is higher in comparison to other marketing positions - based on data gathered by our sister communities in The Alliance - for example, Customer Success Collecitve found that the global salary for customer success professionals was $88,984. Product Marketing Alliance found that for product marketers, the global average was $119,197.

This can perhaps be attributed to the fact that a majority (90.7%) came from mid-growth to enterprise-level companies, though this will be explored further in part nine.
Salary bands
Our salary bands give a slightly more in-depth picture of the range of salaries. Though reflective of the median and average global salaries, the range of $150,000-200,000 was the most commonly selected by our participants.

From the people we surveyed, salaries skew toward $100,000 or higher, with 65.3% of our survey responders having a salary of $100,000 or higher, and only 34.6% with $100,000 or lower.

Next, we'll evaluate if this average is indicative of the average salaries in the different regions represented in our data pool.
Salary by location
The vast majority of respondents were based in North America, 80.8%, with Europe coming in at a distant second (12.5%).

With customer marketing still contending for its place beside other marketing functions, it's understandable that it's yet to become a fully global position.

In the coming years, as the awareness of customer marketing increases, we'll likely see a more even spread of places being represented in our data sets.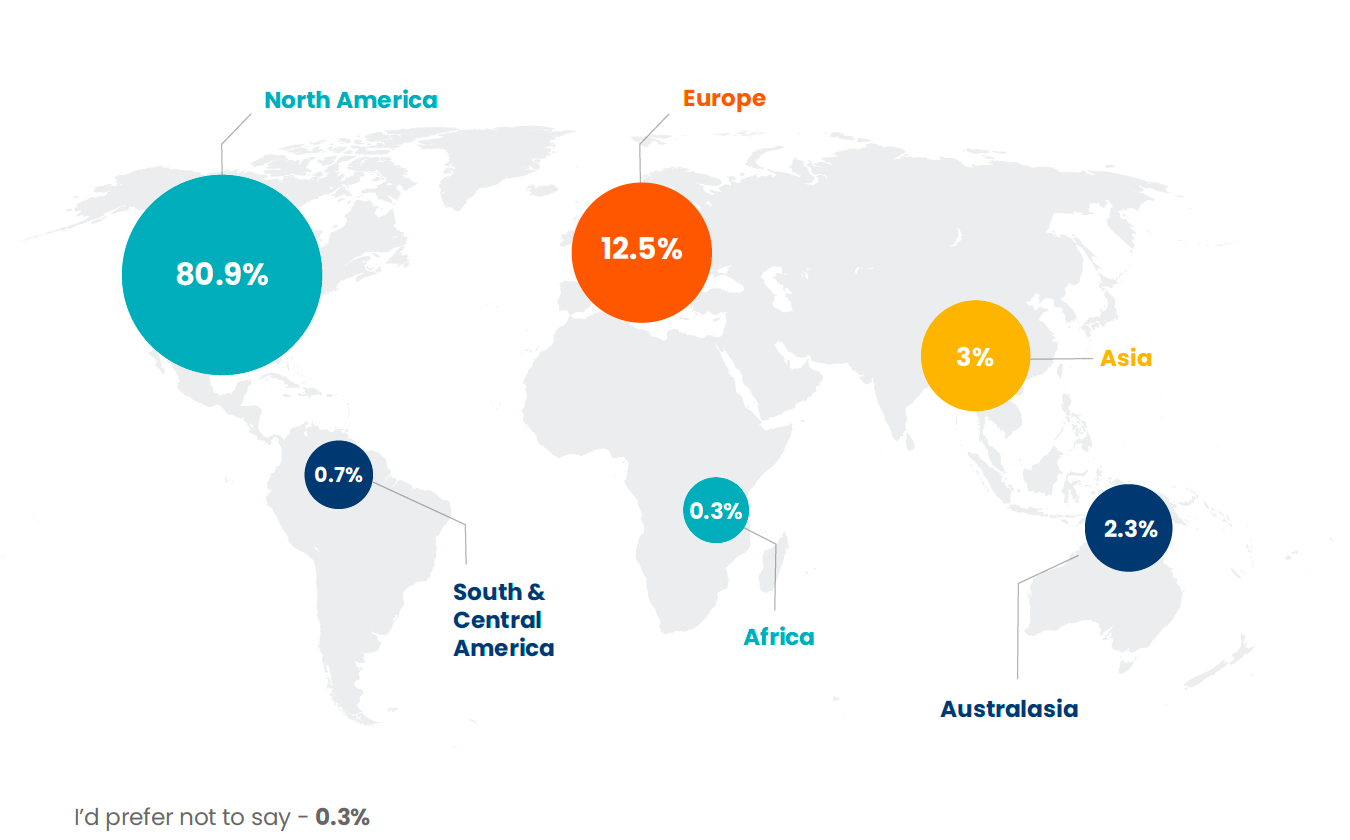 There was a vast range between the average salaries of the regions represented in our survey pool. Our highest-paid region was North America, with an average of $133,649. Comparatively, our lowest-paid region was Asia, with an average of $41,944.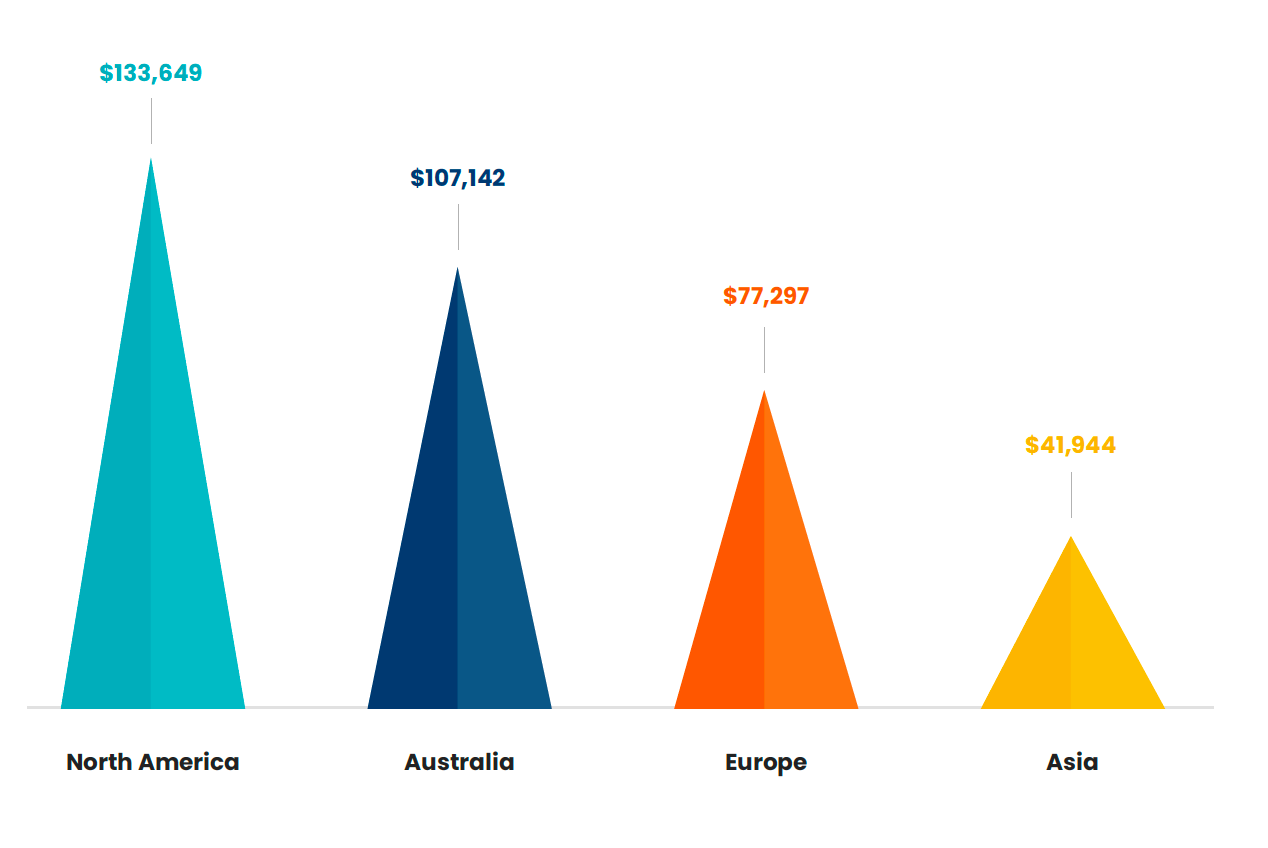 Though it would be ideal for customer marketers to work on an even playing field in regard to pay, the results show that location plays a huge part in the expected average salaries.

Note: As South America and Africa were only represented by three responders in total, we've chosen to omit them from the main data set to preserve the data's integrity. However, their responses were as follows:
South America - $25-50,000 and $100-125,000,
Africa - Less than $25,000
Cost of living
Taking into consideration the cost of living in these areas gives a better indication of the average salary by location. As you see below, the cost of living in each location ranked the same as average salary, with North America having the highest average cost of living per year at $25,344, and the lowest being Asia with an average monthly cost of living of $10,416.



When looking into the cost of living and how much of it makes up the average salary for each location, we can see that the North American cost of living actually makes up the smallest percentage of its average salary (18.9%).

Comparatively, Europe's average cost of living makes up just over 30% of its average salary before tax.

With increasing consumer prises and rising inflation occurring in 2022, and at a higher rate than predicted, salaries should be increasing to reflect this.

The disparity in percentages might also be because of the difference between Europe and America and their access to government-funded schemes when it comes to things like healthcare.

Due to the demand of North American based workers to pay for these needs without support, salaries must reflect this.
Salary by state
With North America being the highest earning region by a significant portion, we were curious how this varied through the different states.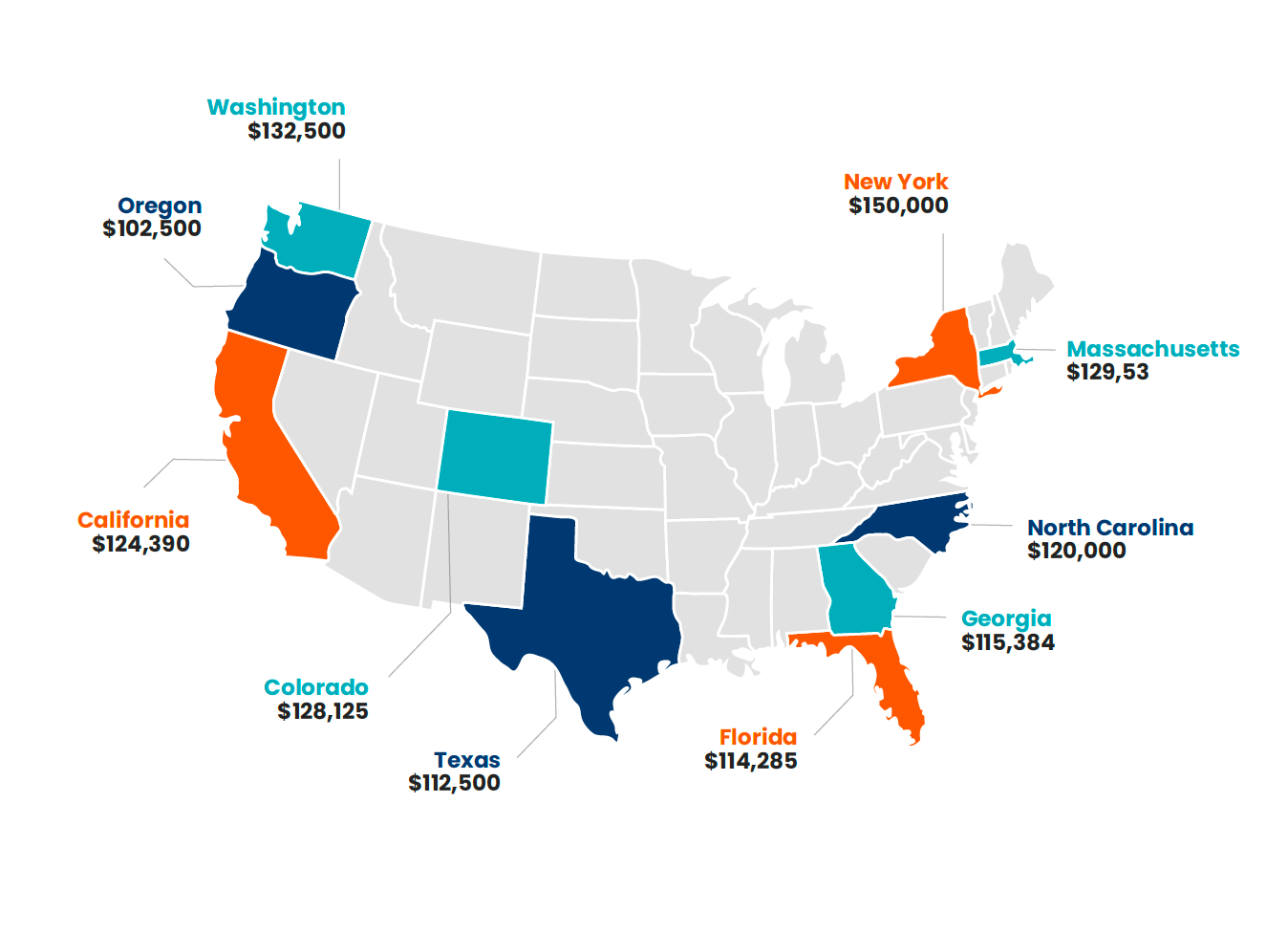 In the group we surveyed, the state with the highest average salary was New York with an average of $150,000, with Washington ($132,500) in second. Of the states represented, New York was the only one with a salary higher than the overall North American average, $133,649, found in our own data.

The states with the lowest average salaries were Texas ($112,500) and Oregon ($102,500).

When considering if the impact of the cost of living for each state might have an impact on salaries, there is interestingly not a lot of cross-over. New York has the highest salary average ($150,000) and is the third most expensive state by the cost of living.

A report from Missouri Economic Research and Information Center cites Oregon as the 8th most expensive state for cost of living. Despite this, Oregon has the lowest average salary ($102,500) out of the states represented in our data pool.

This is in contrast with Washington as the second highest average salary of our data pool. Washington is positioned as the 13th most expensive state when comparing cost of living, below Oregon, according to the Missouri Economic Research and Information Center.

Location seems to have less of an impact when it comes to the US states, and may be influenced by other factors such as company size, years of experience, and responsibilities. These factors will be considered in parts eight and nine of this report.
Salary by employment type
It perhaps comes as no surprise that full-time employees are the ones with the highest average salary in customer marketing.

What's interesting is how much of a difference there is between the average of full-time and that of independent contractors, whose average makes up about 80% of that of full-time employees.

When investigating this difference, the biggest consideration was the average level of experience. It is assumed that those in full-time positions have more customer marketing experience and a more consistent relationship with the topic.

However, full-time employees had an average of 5.2 years of experience, compared with the freelancers' average of 6 years of experience.

We will be considering some other factors that may impact pay for employees in section seven.
Salary by job title
Of the Job Title groups represented in our data pool, Customer Marketing Specialists, a small percentage of the overall data pool, had the highest average salary at $135,714.

Next was those with Senior Customer Marketing Manager titles at $133,392, and Director of Customer Marketing titles $132,638. All of these averages are higher than the global average.

These average are most likely skewed due to the small percentage they make up of the total data pool. This is supported by the fact that Customer Marketing Manager, which made up the largest percentage, had an average of $115,222, which is between the median and average of the global results.

To compare Customer Marketing  to other marketing positions in general, we turned to the LinkedIn Salary Calculator. For marketing manager positions, the median range in the US was $75,000, with a range of $52,000-$100,000.  

For more senior positions such as Head of Marketing and Senior Marketing Manager, the medians were slightly higher at $117,000 and $119,000 per year. For all of these results, Customer Marketing positions score much higher.
Average starting salary
We also asked our participants the starting salary range they began with when they first entered the customer marketing position.
The average starting salary of our respondents, regardless of any other factors, was $77,900. The median salary was slightly lower at $62,500.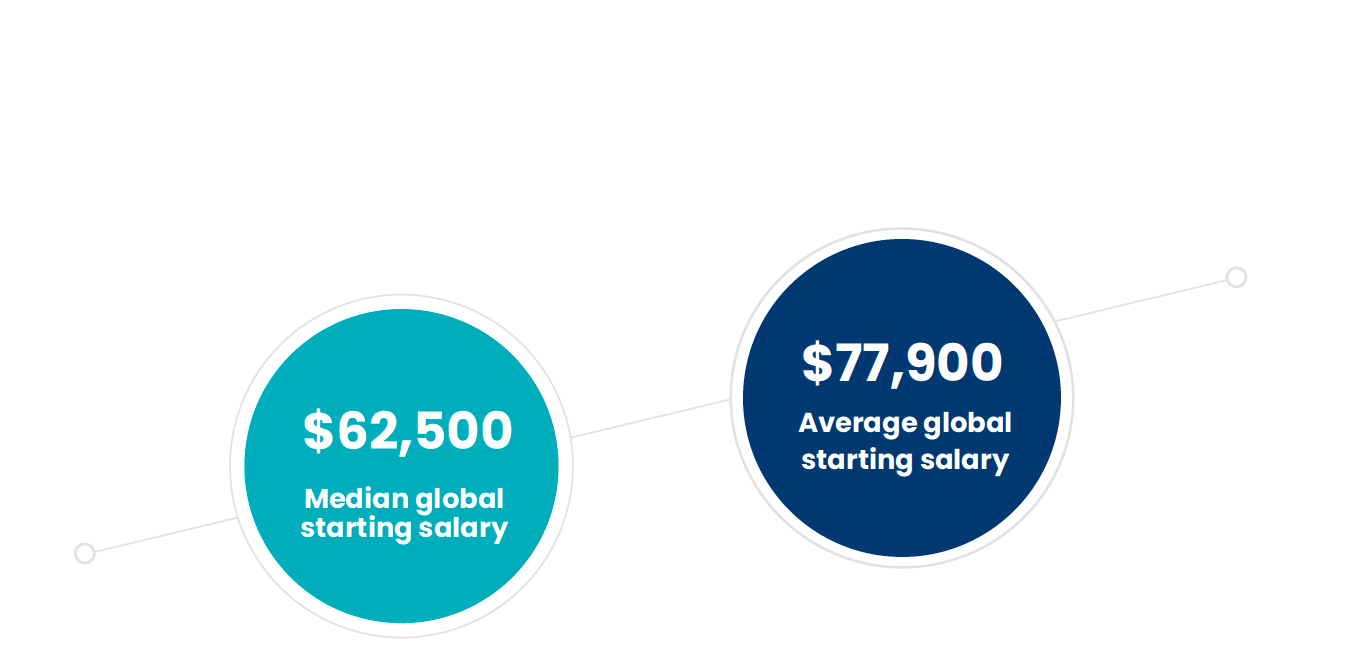 By location, the average starting salary was once again widely, ranging from $49,167 to $85,704. Asia took the spot for the lowest average starting salary, while North America took the highest.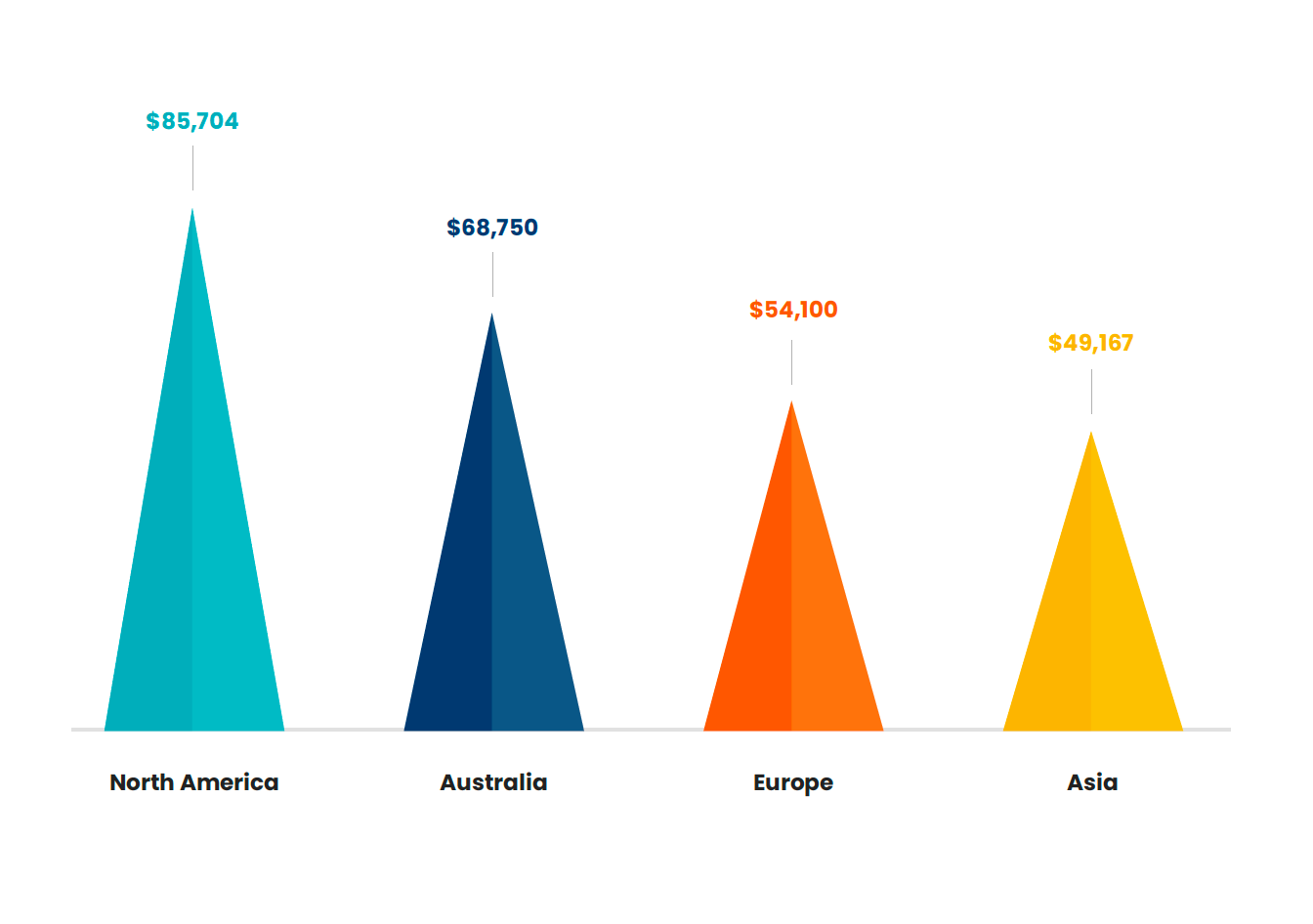 As you can see, there is a lot of disparity when it comes to initial starting salaries for customer marketers.

There may also be other factors affecting this beginning number - things like gender, experience, level of education, responsibility, and more.

Note: Again, South America and Africa were only represented by one responder each, so they've been omitted from the main data. However, their responses were as follows:
South America - $50-75,000
Africa - Less than $25,000
Want more?
This article is a sneak peek into our Customer Marketing Salary Report.
You can download the full report using the button below and unlock a whole 80+ pages of unique insights into the current state of customer marketing salaries and the factors that affect them. Set yourself up for success.