Knowing the skills that can help elevate you in a specific position is invaluable information. So, we went directly to the source and asked our customer marketer participants, "What are the most important skill(s) that have helped you succeed in your role?". Responders could pick more than one answer.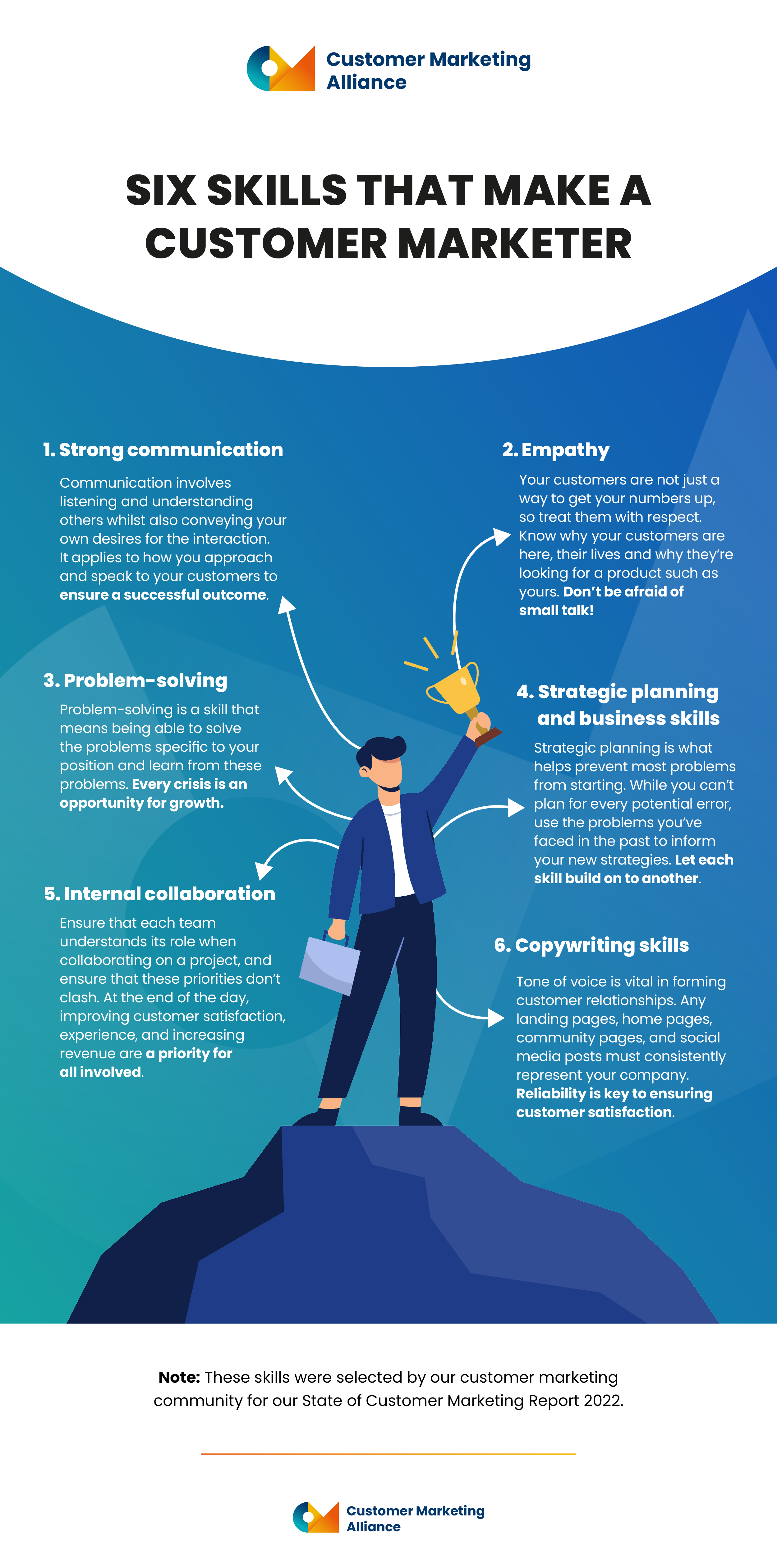 There was a spread of answers with strong communication (23%) and empathy/being able to connect with customers (18.9%) coming out on top. This was followed by problem-solving (16.2%), and strategic planning and business skills (16.2%).
Strong communication:
For customer marketers, for any marketing position really, communication is a vital skill to hone for many areas of the role. It applies to how you approach and speak to your customers, and how you communicate in a way that ensures a successful outcome (be it a renewal, gathering a case study, cross-selling and upselling your other products, or just catching up with your loyal customers).

But strong communication can be used in other areas as well. Think about how you approach talking to other internal teams. The success of any cross-functional strategy will depend on the ability to keep communication clear, transparent, and efficient.

Competitive intelligence is an area where strong communication is a plus. When approaching competitors, analyzing their tone of voice and strategies, talking to clients, and having the ability to dig deeper into the pros and cons of your product versus your competitor's product can be key to learning what's most important.

Approachability is an important trait to have in a customer-facing position. Communication involves listening and understanding others whilst also conveying your own desires for the interaction. This comes along with empathy.
Empathy:
Empathy may seem like a rather abstract skill to refer to, but it essentially means being able to form a connection with your customers. One of the most important aspects when approaching a conversation about sales is to not immediately launch into your sales pitch.

Your customers are not just a way to get your numbers up, so treat them with the same respect. Understand why your customers are there, their lives and why they're looking for a product such as yours. Don't be afraid of small talk!
Problem-solving:
Problem-solving is a skill that's important to almost any role within business (even outside of business too!) What this skill really means is being able to solve the problems specific to your positions, and to learn from these problems so you can solve them when they crop up again.
Strategic planning and business skills:
Strategic planning is what helps prevent most problems in the first place. While you can't ever plan for every potential error, it helps to apply your understanding of your customers, and the problems you've faced in the past to inform your approach to new strategies too.

Let each skill inform and improve the others.

It's not a surprise that communication and empathy come out on top as essential skills for customer marketers, and ones that existing customer marketers use in their daily work lives. They're core, foundational parts to the internal cross-functional aspect of the role, and the customer-business relationships that are integral to this position.
When we look back, customer feedback collection was tied top for the most common responsibility for a customer marketer (33.3%). Collecting this feedback in any form – be it a survey, focus group, or case study – you need to be able to ask the right questions and listen to the answers.
We found that a large majority, 38.5%, spend 40% or more of their time collaborating with other internal teams. Many pain points for customer marketers are caused by a lack of understanding, a lack of resources, and a lack of cross-departmental business alignment.
While customer marketers can't suddenly change how other teams collaborate with them, they can be responsible for their part in helping de-silo business processes. Both business skills and communication are vital for this.
What to look for when hiring a customer marketer.
Now knowing what skills current customer marketers have used to succeed in their role, we wanted their suggestions when it came to hiring a new potential customer marketer. We asked them which skills they would find most useful in a new hire. Here is a broad stroke of the kind of answers we got.
The top two skills were the same, with communication skills (18.2%) and empathy (16.4%) taking the top places. Interestingly enough, the next highest ideal skills in a hire were internal collaboration (14.6%) and copywriting skills (12.7%).
Internal collaboration:
Just as strong communication is important for talking with your customers, the same is also true for collaboration with internal teams. The vital part of this is to make sure that each team understands what their role and priority are when collaborating on a project, and ensure that these priorities don't clash or get in the way of the ultimate goal.

At the end of the day, improving customer satisfaction, experience, and increasing revenue are all priorities for those involved. So make sure your collaboration skills are the best they can be to make sure your strategy becomes the best it can be.
Copywriting skills:
Having the skills to effectively talk to and interact with your customers is all well and good, but if your copy doesn't reflect this then you're never going to get to the stage of being able to talk to your customer face-to-face.

The tone of voice is vital in setting up a positive tone for forming customer relationships. Any landing pages, home pages, community pages, and social media posts must be consistent in their representation of your company. Reliability is key for ensuring customer satisfaction.
While these skills did come up as reasons for customer marketers' success in their careers, they made up only 10.8%. This distinction suggests that, while these skills aren't what progress customer marketing in their personal career successes, they are basic requirements for those taking the role.
We also had a few new skills being mentioned, ones that specifically revolve around new hires being independent. These were things like being a self-starter, comfortable developing programs with little direction, and being proactive.
These skills are desirable in any new starter to a business but seem to be key for customer marketing. As this report has shown, customer marketers are most likely to work as a solo team, or in very small teams, so being able to take the initiative is required.
It's understandable that strong communication and internal collaboration now come first ahead of things like strategic thinking or analytical skills, as the success of an independent role is reliant on being able to communicate needs and changes reliably.
Want to read more?
The graphs from this article came from our 2022 State of Customer Marketing Report. In it, we go over key skills for customer marketers, but other aspects of the role such as budget, team structure, role and responsibility, and more.