As customer marketers often fall under different teams or departments depending on an organization, it can sometimes be tricky to pin down their 'typical' day-to-day activities. What we can be sure of, however, are the valuable qualities that they possess and the key strategic responsibilities they drive forward.

Let's take a look at the DNA of a customer marketer. In this article we will go over:

The DNA of a customer marketer
The big picture: they are a driver of outstanding experiences. They align company goals and visions in their day to day, keeping their finger on the ROI pulse.
A natural collaborator: they bring people and teams together at the right time to enhance customer experience.
Are resourceful and flexible: working in an evolving field demands adaptability and creative thinking.
A customer fanatic -  giving people great experiences is what makes a customer marketer tick and drives them forward.

We asked directors of customer marketing what kind of skills they look out for at the interview stage or might add to a job description. Kalyn New at Campaign Monitor had this to say:

"I look for people who have worked in loyalty or retention before - across any industry. SaaS/subscription experience is also a plus as it means you have that focus on content and value, whether B2B or B2C. They also need to be data-driven."

In terms of strategic responsibilities most customer marketers are involved in the following activities in one way or another:

Setting the tone for customer interactions and building the foundations for a unique customer experience.
Overseeing engagement, advocacy programs, communications, onboarding processes, nurture campaigns, and possibly content.
Identifying opportunities to cross/upsell, for renewals or referrals.
Tracking data and key metrics.
Highlighting potential customers for feedback, events, webinars, etc.

Again, this is by no means exhaustive. Customer marketing activities will often overlap with customer success, sales, and product marketing teams.
Team structure
Where does customer marketing belong? Besides the fact that it has a place within every organization, there seems to be a lot of debate about what exactly a customer marketing function looks like.

With some brands, customer marketing sits alongside product marketing and customer success, with the shared remit of product adoption, and complementary objectives when it comes to retention, expansion, and product roadmaps.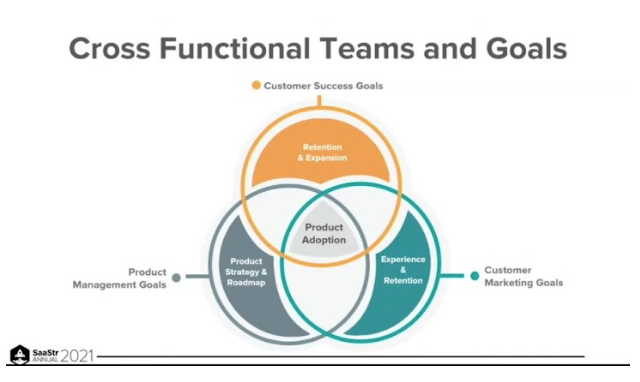 Our thoughts are that customer marketing will continue to develop as a department and field in its own right, as a truly cross-functional team that complements sales, success, and product marketing efforts. It's almost certain that we'll see a continued emphasis on advocacy and community programs as more companies digest the value and benefits that they can bring.

What customer marketing looks like will also vary depending on the maturity of a company, but increasingly, startups are incorporating customer marketing takes on producing advocates early doors, or thinking through how to best penetrate a market.

If you're a solo customer marketer or a manager or director looking to build out a team, here are some suggestions for what that could look like in practice - it will depend on the priorities of your organization, though, so these roles and responsibilities can be shaped to fit - for instance if you need more emphasis on expansion, you may want someone who leans more towards sales and product.

Firstly, let's take a look at an advocacy role. If you already have great retention and engagement systems and campaigns in place, this may be a good progression.

An advocate manager or advocacy director could have oversight of:

Onboarding advocates .
Acts of advocacy such as reviews and references.
Management of customer advisory boards where appropriate.
Creating and managing advocacy programs and rewards.
Voice of the customer programs.

This role would complement a community director/manager nicely. A community post might encompass the following areas:

Organization and delivery of events.
Oversight of communications and socials, customer engagement.
Establishing/managing a community platform.
Ensuring that the voice of the customer is heard throughout the organization.
Creating and maintaining feedback loops.

A program director is a third possible role, focusing on overarching strategy, content, and revenue.

They might be involved in:

Gauging strengths and weaknesses in the customer lifecycle, tailoring touchpoints to specific personas and segments.
Identifying content and knowledge tied to these specific personas (reports, how-to's, webinars, and so on).
Refining onboarding processes and customer education.
Monitoring the success of advocacy programs, impact on sales and revenue, and so on.

These roles both span the scope of customer marketing and divide responsibilities efficiently, and are flexible enough to be modified to fit the needs of your brand - ownership of specific tasks and processes is tricky at the best of times, and you will know best how they might align with your internal structure.

Starting out solo
Now, if you're new to customer marketing, are a solo customer marketer, and/or have to build the function out from scratch, you might be feeling a little overwhelmed at the range and scope of the customer marketing role, and the sheer level of strategic value it contains - worry not though, in this section, we've gathered tips from those who've been in the same position and next we'll share some of their advice.

In the first 6 months of a new role, most customer marketers suggested:

Dedicating a lot of time to research - that is, doing courses like this one, or talking to others who have established themselves already in the role, for instance by reaching out on Slack
Getting as much intel as possible about how internal teams and departments are currently organized and function. Spend time with customer success, account managers and sales, if you can - and find out what they're proud of, and conversely, what their struggles are.

Here is where you step in - see what resources you can allocate and pick up any pieces where you can, be it with a step of onboarding, an activation campaign for specific accounts; anything that can have a near-immediate impact or effect. Do the best with what you have at the moment, and try not to set goals that are too lofty. Success with content, emails or socials is a much quicker win at this stage.

The result of these efforts and time investment is that you're laying the foundations for future collaboration and cheerleaders across your company - and when the time comes to start scaling and thinking bigger, you've already proven that customer marketing can have an impact - that buy-in will be worth its weight in gold, and the relationships you've spent time building will be super valuable.

As well as networking from the inside, make some time to reach out to other customer marketers - in our Slack channel, for example, or on Linkedin - there are tons of other people out there asking all kinds of questions and sharing their experiences.

When we asked customer marketers what their first major endeavors were, many of them responded with building a community or developing an existing community further, with the reasoning being that it supports the other customer marketing pillars of retention and engagement. It's a good idea to lay out a vision of what you want your community to look like, the kind of goals you'd like to achieve with it, and what the outcomes of it will be.

Go back to those stakeholders you shadowed at the beginning, and ensure you get their input - they will more than likely have some great ideas and their own community agenda, so be sure to implement their feedback into your plans, and tie them to your brand's overarching objectives.

However,  a word of caution - community or advocacy programs alone are rarely effective - they need to be underpinned by thoughtful and considered retention strategies.
Discover more
So, you've read about the DNA of a customer marketer and you're now looking to understand what goes into actually implementing it into your existing network. Well, we've just the thing for you with our Customer Marketing Certified: Core.
👩🏼‍🏫 12 modules
📙 40+ chapters
⏰ 10+ hours
🔥 6 fireside chats
👨🏼‍💻 100% self-paced

Customer Marketing Certified: Core's the industry standard, the driving force for your success, and the only companion you need for personal and professional growth.