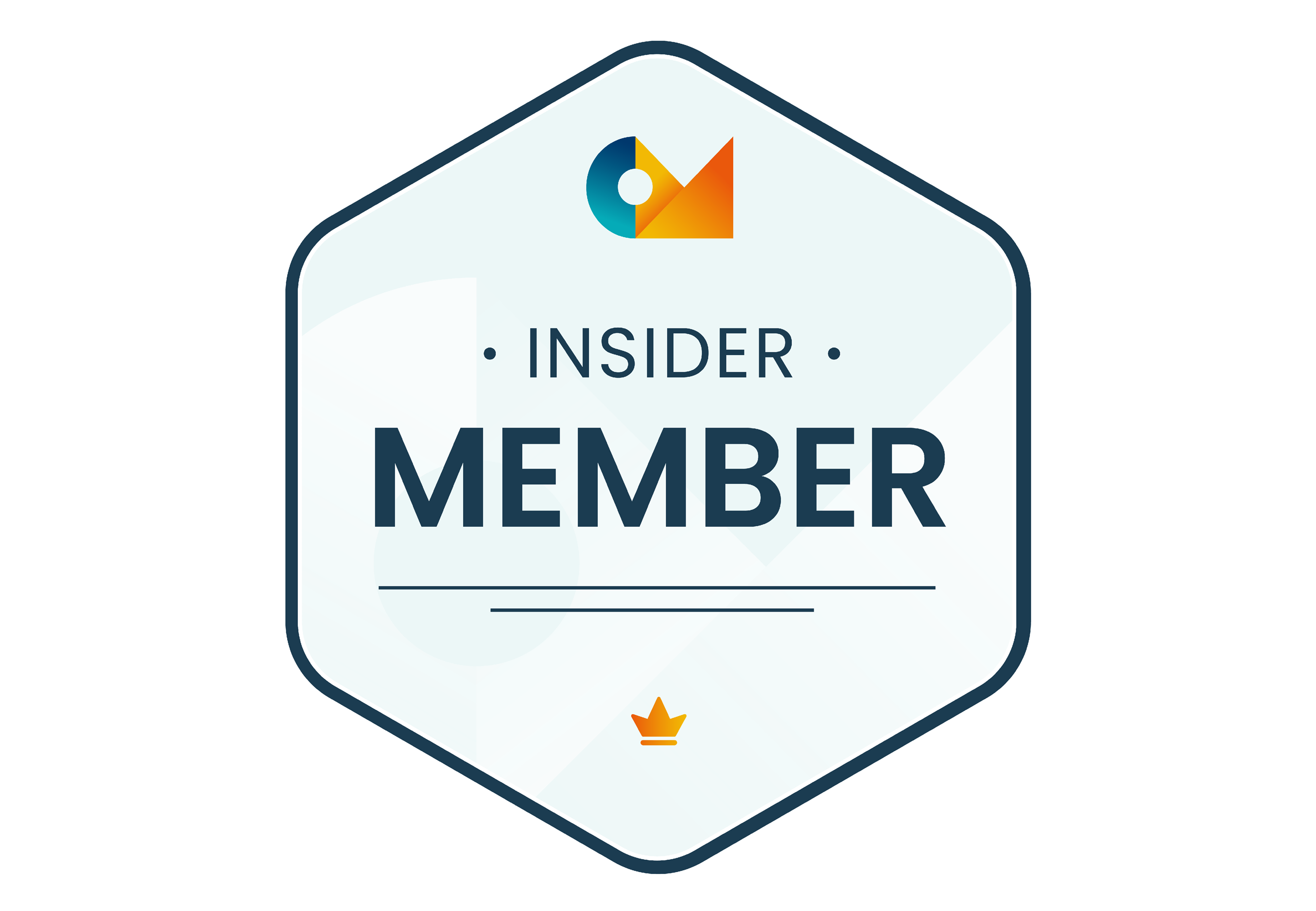 Your gateway to world-class customer marketing resources.
Access customer marketing experts, insights, community, networking, courses, and more. For free.
✔ Templates & frameworks
✔ Exclusive content
✔ Community events

✔ CMA Slack community
✔ Ungated access to all reports
✔ Hours of real-world case studies

✔ Weekly newsletters
✔ Competency framework (coming soon)
✔ CMA GPT (coming soon)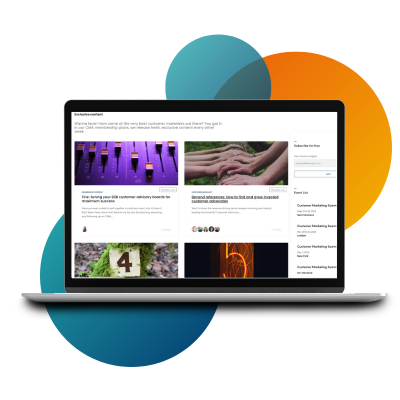 What's an Insider membership?
1,000s of customer marketers all over the world trust CMA to be the go-to resource for their learning and development. Benefit from our community-led resources through the Insider plan, for free!

Access cutting-edge insights from renowned customer marketing experts (at Asana, Adobe, Workday, Atlassian, and more), courses to help you upskill, battle-tested templates & frameworks, as well as a network of peers to bounce ideas off and help overcome your challenges.

Become an CMA Insider member for endless insights, connections, and real-life success stories... and we'll bet our bottom dollar that you'll be wanting more.
"The CMA is a hugely helpful community to be in. I stumbled into customer marketing by chance after leaving a very different job and I've been in it for almost two years now, and I couldn't have done it without the support of the CMA community. Whatever I needed answers for, there was someone to talk to and help, not to mention all the templates and resources. I highly recommend joining."

- Lena Franzen, Customer Marketing & Advocacy at Perkbox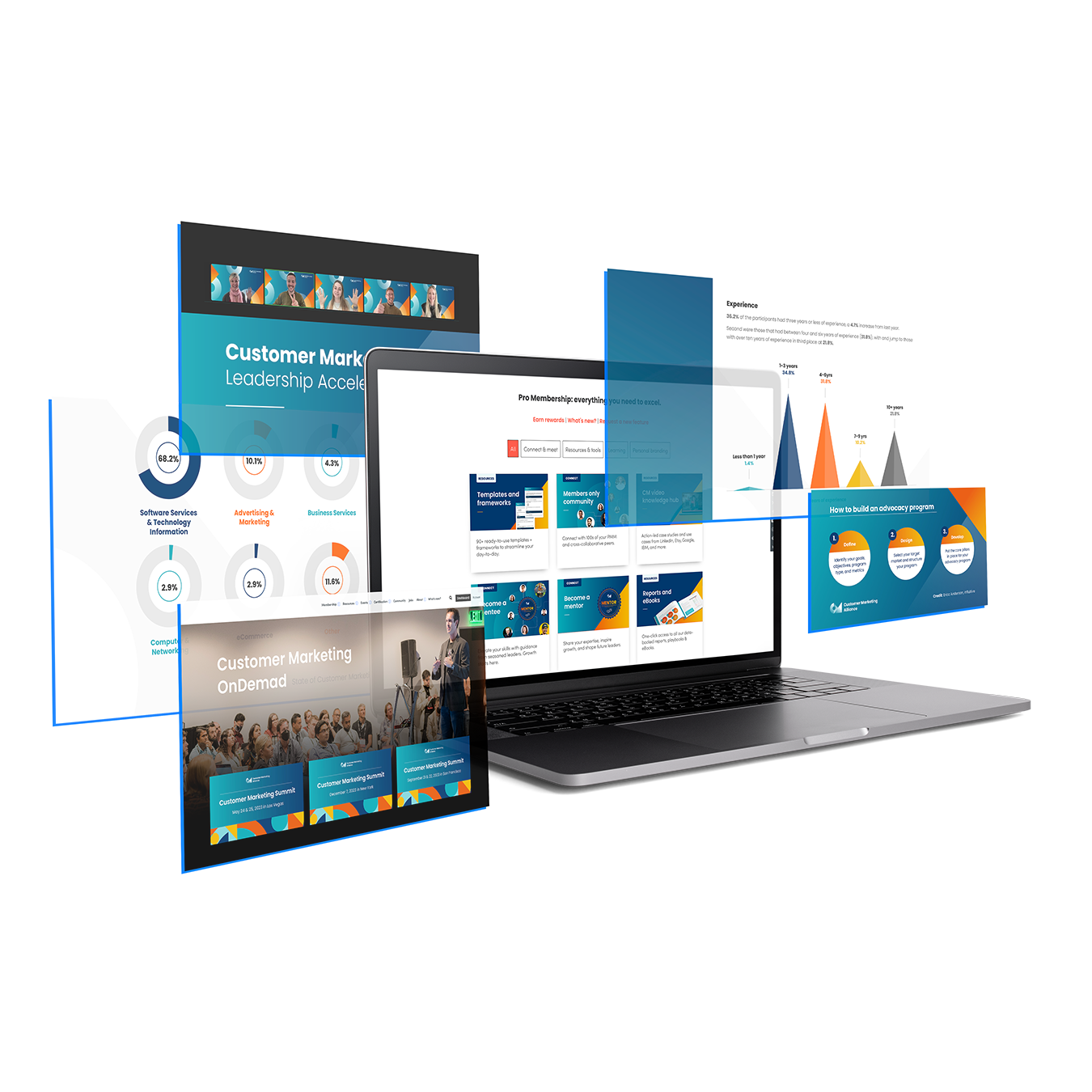 What's included in an Insider membership?
📑 Templates & frameworks. Save time with battle-tested and ready-to-use templates.

✍️ Exclusive content. In-depth thought leadership articles from world-leading companies.

📺 Read-world case studies. Hours of insights from leaders at Cisco, SAP, Slack, Dropbox, and more.

🧑‍🏫 CMA Academy. Coming soon. Free bite-sized courses for small doses of daily learning.

📚 Ungated reports. One-click access to industry-leading insights to shape your strategies.
---
What do you get?
(Versus what you could get if you go all-in with a Pro plan.)
Outsider
Insider
Pro
Pro+
Public articles
✓
✓
✓
✓
Webinars
✓
✓
✓
✓
Templates & frameworks
✘

4

50+

(Updated monthly)

50+

(Updated monthly)
OnDemand videos
✘

10

100+ hours

(every event, ever.)

100+ hours

(every event, ever.)
Exclusive articles
✘

5

40+

(Updated biweekly)

40+

(Updated biweekly)
Ungated reports
✘
✓
✓
✓
Community meetups
✘
✓
✓
✓
Mentor program
✘
✘
✓
✓
Learning paths
✘
✘
✓
✓
Members-only community & events
✘
✘
✓
✓
10% off all courses
✘
✘
✓
Access to all courses as part of your plan
40% off in-person events
✘
✘
✓
Free entry to a Summit of your choice every year your plan as active
---
Lots of love, from lots of customer marketers. 🧡

"The Customer Marketing Alliance is a fantastic group of professionals focused on the often overlooked space of customer marketing and customer advocacy. I've been apart of the community for nearly a year and have made fantastic connections with like-minded individuals. The resources available to you are second to none and it's an amazing ecosystem to learn from."
-Patrick Clore, Customer Marketing Manager at Zimperium

"I'm proud to be a part of this powerful, growing customer marketing community, with all of its thoughtful sessions and conversations."
-Mindy L, Head f Customer Marketing at Moveworks