Hi, I'm Bree Bunzel, and I lead Customer Marketing for Dropbox. I'm delighted to share with you my experience in building customer marketing as a function and proving ROI.

This article will go through:
My journey
I first worked at a company called Intuit QuickBooks. It was there that I learned the value of customer-centricity.

The founder, Scott Cook was very customer-focused. You'd be in a meeting and he'd say, "Have you had a chance to talk to the customer? What did they say?" And if you didn't have an answer, you had to walk out of the meeting, go get that customer insight and bring it back.

After about four years there in marketing, I moved over to Sydney, Australia. They'd opened a new office and were building out their marketing team. There, I did Product Marketing for the APAC region and learned more about localization and translation.

I spent about two years at Intuit QuickBooks, Australia, and then moved over to Dropbox. My role was leading product marketing for APAC, and then I transitioned into a role on the Customer Advisory Board for a year, and my role for the last year has been leading customer marketing.

My journey to customer marketing
My journey to customer marketing has come through in a lot of interesting ways throughout my career. In my first job at Intuit QuickBooks, customer-centricity was part of the DNA. If you didn't know how to interview a customer, you failed your onboarding experience. I've carried that customer-centric evangelism with me throughout the rest of my career.

As I mentioned, I also had a role leading a global customer advisory board program at Dropbox about a year ago. It was there that I found my passion for chatting with customers, learning about their challenges, and learning the nuances of working in each location and language around the world.

As we prepared for these CABs, I also had a chance to chat with those executives who had customer touchpoints, from customer success to sales to customer experience. I was also able to build relationships in a way that helped serve a greater purpose as I became a customer marketing leader.

Completing the perfect trifecta was a business opportunity. Dropbox was transforming from a file storage company to a collaboration platform. And as part of this perception change and product change, a business opportunity arose to bring these customers through this change.

This, combined with the pandemic, which had people consolidating their tools meant there was a need for someone who could understand and holistically view the post-sale experience.

That's where this customer marketing role came to me about a year ago when I was tapped on the shoulder by our CMO. What I appreciated most about her is that I was nowhere near ready to lead customer marketing, but she hired and brought me into this role based on potential, not just my existing skillset.
Five steps to building customer marketing
Based on what I've learned in my customer marketing journey, I've created a five-step framework for building out customer marketing:

Defining customer marketing,
Knowing your why,
Studying what best in class looks like,
Knowing how to measure your impact and success.
Knowing how to evangelize your success internally.

I'm gonna take you through each of these steps in a bit more detail.

First though, a little reminder about the importance of building out a customer-first experience. This quote from Steve Jobs is one of my favorites. He said:  

"You've got to start with the customer experience and work backward towards the technology."

This principle has come back to me over and over again throughout my year leading customer marketing.

One of the challenges you face in an organization is that people can start falling in love with a solution or an idea as opposed to the customer experience.

Or maybe they start to solve completely for revenue and don't realize the customer is being left behind. You always have to remind yourself to think first about the challenges customers are facing and solve those.

Now, onto our framework.
Defining customer marketing
So I'm gonna start by defining what customer marketing is. Customer marketing is a function that develops strategies and activities that drive:
Adoption,
Retention,
Loyalty,
Advocacy,
Growth, and
Community participation.

All of this is in service of customer goals.

Maybe you're helping your customers to grow their businesses and become even more successful in their trades. Their happiness with your product as a result of hitting those goals translates into high net promoter scores and Customer Satisfaction (CSAT), long-term adoption, and retention of your products. That feeds naturally into the revenue goal that your company is aiming for too.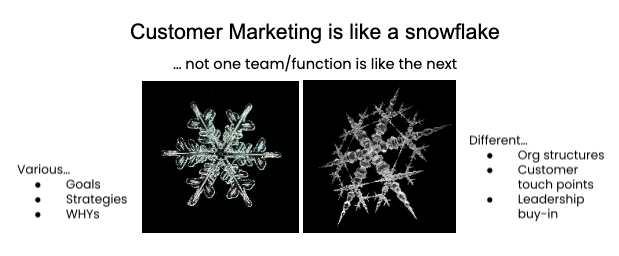 I like to think of customer marketing as a snowflake – no one team or function is the same. You have various goals and strategies and whys. But the intricate details within the snowflake that distinguish are the key differences around your org structure, the customer touchpoints that you have or don't have, as well as the leadership buy-in.

Some leaders have customer focus baked into their DNA, and others who have no idea what you're talking about when you bring up the concept of customer-centricity.

And so, with all these variables, how do you assess your current situation to build out the function that's best for your organization and your customers?
Customer touchpoints
Just as your leadership can vary enormously, so can your customer touchpoints. At Dropbox, we've got a whole spectrum of online and offline touchpoints. There're digital channels like social media, email, and our website; there are in-product touchpoints too, and customer support.

Before the pandemic, we used to hold Real World Wednesdays, where customers would come in and test out minimum viable products and different initiatives. We also have customer visits, which are critical to understanding our customers' needs. And then of course there are webinars, in-person conferences, and customer advisory boards.

And all of these touchpoints make up the customer experience. The experience isn't solely one of these, it's a combination of all, it's important to consider each of these touchpoints as you're building out a customer marketing function.

As you're building out that function, you also want to make sure that you're including all the right stakeholders. Customer marketing by no means owns all of these touchpoints.

There's an email lifecycle team, there's a social team, there's an events team, and there's your designers, your product folks, and your CX. They all need to be considered as you build out your team and define your goals.
Knowing your why
The second part of building a customer marketing function is knowing your why. Why does the team exist? What benefit will it bring to your organization and your customers?

Let me just walk you through how we found our why at Dropbox. At Dropbox, we have over 500 million users globally. When we were interviewing all these customers, we realized that many of their workdays look something like this: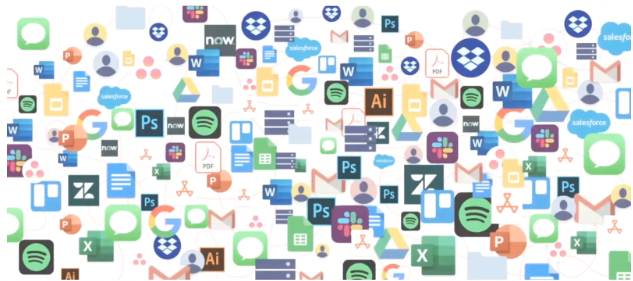 They open their computer, they bounce in and out of applications, and before you know it, their work is more disconnected and unfocused than ever before. The irony of this is that these tools were all designed to make their lives easier and more efficient, but they've only made them busier and more complicated.

We set out on a mission to design a more enlightened way of working, and then the pandemic struck. Suddenly everyone was working remotely, which raised all kinds of new challenges.
Remote work
We had to design a solution that would allow customers to navigate these challenges and focus on the work they love, so we launched Dropbox Smart Workspace, which is an essential collaboration space to bring your teams, content, and tools in sync.

This was a huge departure from what Dropbox had traditionally been known for, which was a basic cloud storage solution.

We soon realized that customer marketing would be critical to this transformation. We needed to take customers along on this evolution from just a storage company to a place where work gets done end to end, from the moment you start a brainstorm, to the point that you complete a project or an idea.

And so we set out on a mission to better understand how to think about the customer experience and bring them on this journey.
Mission, strategy, metrics, and tactics
Now, I'm going to take you through a template of the mission, strategy, metrics, and tactics that're involved in making a customer marketing function happen.
In our case, we set a very simple mission to create, execute, and measure post-sale campaigns and programs to improve the quality and quantity of customer engagement, drive loyalty, generate growth, and activate advocates. The strategies cover TAM, adoption, advocacy, engagement, cross-sell, and upsell.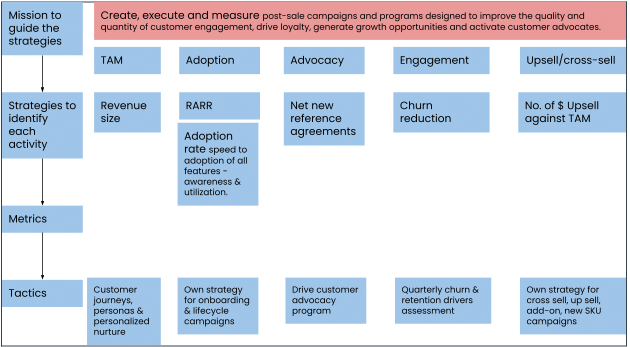 This could easily turn into a plethora of different success metrics, so to avoid this, we decided to focus first and foremost on onboarding and adoption. We wanted to know how well customers are educated on the product, how well they're using the product, and whether they're satisfied with the experience enough to continue using it after 30 or 90 days.

Last but not least are the tactics. There are a lot of different tactics that can help you reach each of the metrics and strategic objectives that you're going after. It could be everything from driving onboarding and lifecycle campaigns to building out an advocacy program for the very first time.

This is just an example of a framework, but it can help you to think more strategically about how to build your  customer marketing function.
Knowing what best in class looks like
The third step to building a customer marketing function is knowing what best in class looks like. To find the B2B SaaS best in class, I went looking for companies that are doing an amazing job of customer marketing.

They have great advocates telling great stories; their onboarding and nurture campaigns are super successful; their net promoter scores are high; their third-party reviews are through the roof.

What better way to learn about the best in class than to talk to them? You'd be surprised how many companies said yes when I reached out and asked them to share how they managed to build such outstanding customer marketing functions.

What started as one customer marketer interview turned into eight. Then it quickly multiplied and became a SWOT analysis that I conducted across a huge range of best in class B2B SaaS companies, including the likes of Adobe, LinkedIn, Asana, Zendesk, Amazon, WalkMe, and  Monday.com.

I'd like to thank all these folks because a lot of the knowledge that I've built came from the insights that they generously shared.

I asked them how they built customer marketing, how they measure their success, and how they interlock with sales and other parts of marketing.

One of the biggest insights I gained from the SWOT analysis was that having a quota tied to your reference agreements led to a bigger pipeline, which led to better stories and more options to choose from.
External SWOT
Adobe and Marketo - Sales/CSM - Run SPIFFs to help identify advocates.
LinkedIn/Glint - Annual advocate awards.
Asana - Discount given to customer reference at point of sale.
Zendesk + Amazon - "Our customers sell-out business as good as our sellers" - customer references are part of every give/get a negotiation.
Monday.com - Advocacy program called "Monday Club" -  a database of all customers who fit key criteria.

Now, I'm not saying that everybody should go out and conduct a SWOT analysis, but I think it's worth remembering that if you want to learn from the best, it can't hurt to ask.
Knowing how to measure impact and success
The fourth part of our framework is knowing how to measure impact and success. I'm sure many of you are wondering how to show the value of customer marketing and its impact on not only your customers but the organization. I'm going to take you through a few ways that we did this at Dropbox over the last year.

Our initiatives span customer demand generation and advocacy. On the demand gen side, we look at onboarding, adoption, and lifecycle. We want to get customers using our products and ensure that they're happy with the experience, want to upsell and cross-sell, and stay with us long term.

This involved working closely with our integrated marketing and email teams to look at reprioritizing the onboarding process and making sure we're putting out the right content and educational material.

We also worked closely with a lot of cross-functional teams, for example, data science to identify high-value actions and propensities for growth and retention. We wanted to leverage that knowledge in the way that we build onboarding experiences.

We also thought about offline experiences and how best to equip CSMs and sales teams with enablement kits. The aim here was to make every new experience, whether it be a product application, a new feature, or a product launch, as seamless and educational as possible.

Measuring impact and success
Customer Demand Generation:
Online - Onboarding & lifecycle
Offline - Sales/CSM onboarding & enablement
Metrics -  LTV/CAC
Adoption
Upsell/cross sell
Retention
Advocacy:
Metrics
Reference customers
Advocates & engagement
Customer content
IARR

In terms of metrics, some of the key areas that we focused on were loan-to-value (LTV) to Customer Acquisition Cost (CAC), 30-day to 90-day adoption rate, and the rate at which customers adopt upsell and cross-sell? We also tagged some of these longer-term customers on the retention scale.

To give you an example of how this played out, we ran an experiment where we launched a brand new campaign that focused on all the high-value actions around education and ensured that within 30 days, customers would know everything about the product.

We then compared this to a prior experience that was purely about upselling, and we measured over time the improvement in adoption, upsell, cross-sell, and long-term retention.

The other side of this initiative is all about advocacy. We want to get customers to love Dropbox so much that they tell our story to the world and become Dropbox evangelists. This's a bit more tricky and, to be honest, we're still working to figure out what that success looks like.

One of the ways that we've measured the success of the advocacy side is through the number of customer references. So let's say last year, we had five customer stories, and this year, we had 50 customer stories. That improvement can easily be a metric for success.

You can also measure the number of customer advocates – the number of customers who are happy to evangelize on your behalf. That could be through webinars, case studies, stories, and beyond.

You can also look at the quantity of customer content, as well as its efficacy in the enablement process. For example, maybe we had 20 customer stories this year and three of those were shared in a deal cycle, and as a result of that, we influenced $2 million in ARR – the total amount of the deal.

What you can then do is claim this influences ARR metric, which I believe is critical. Sometimes customers don't get out of the line until they know that other customers like them are happily using the product for their specific needs.

These are just some of the ways that you can measure success. We're still evolving and building this as we go, but it's a good starting point with some tangible numbers that you can hang your hat on as you build your team and your function.

How to evangelize success internally
Last but not least in our customer marketing framework, is evangelizing success internally. If you miss this step, you have failed on the last mile of your marathon.

You want to make sure your organization understands everything that you've done to build customer marketing and the impact that you've made, not only on your customers but also on your internal teams.

There are several simple ways that we've made this happen. The first is roadshows, roadshows, and more roadshows. I did over 50 roadshows on our new customer marketing function to every leader in the company and all of their teams. I lost my voice, which was fortunate because I was completely sick of hearing it.

The great thing about the roadshows though, was that I had the chance to make sure everyone fully understood what we were about. I did it well enough in advance of the next year's planning that people had a chance to incorporate our goals and our initiatives into their planning. This has been critical to the success of customer marketing, and we continue to do roadshows month over month.

We also kicked off a quarterly newsletter to spotlight the impact of customer marketing and all our wins. We use it to show people across the company how our customers are being brought to life through advocacy initiatives and how we're improving their experiences.

The third way we built a culture of evangelism is through one on ones. As I mentioned earlier, there are different leaders associated with all of our customer touchpoints, and having a rapport and a constant relationship with them makes a difference as you're trying to prioritize key initiatives and get other teams from their organizations on board.

The last piece is goal reminders. Constantly remind teams what you're doing, what your goals are, how they can help you to achieve your goals, and vice-versa. Repetition does not ruin the prayer here. The more you can remind folks that you're building a new function, the more chance there is of them helping on your journey to success.
Want to learn more?
Bree Bunzel is the professional host for our Customer Advisory Board Masterclass, a certification put on by Product Marketing Alliance.

As you're thinking about the skills you need to build tangible success in your customer marketing function, consider taking this class. It'll involve 3+ hours of content, that'll help you:

✅ Understand the strategic benefits of Customer Advisory Boards
🙌 Get business buy-in from key stakeholders
🔥 Drive engagement among your members
🗣 Consolidate feedback and introduce action points
👌 Source ideal CAB members
And much more!