Have you ever wondered who stands at the pinnacle of customer marketing excellence? The moment you've been eagerly waiting for has arrived! 🏆
After a meticulous evaluation of all the nominations in their respective categories, we are thrilled to unveil the 2023 Customer Marketing Award Champions.
We extend our heartfelt gratitude to everyone who participated in these awards, applauding the best in the industry.
Customer marketing is one of the driving forces behind ensured retention and sustainable growth, and it's high time we celebrate the remarkable individuals and teams leading the charge. 🚀
Without further delay, let's introduce you to the victors in our prestigious trio of categories…
---
Customer Marketing MVP of the Year
We're delighted to present the Customer Marketing MVP of the Year Award to Robert Maddox, Customer Advocacy & Community Manager at Delinea.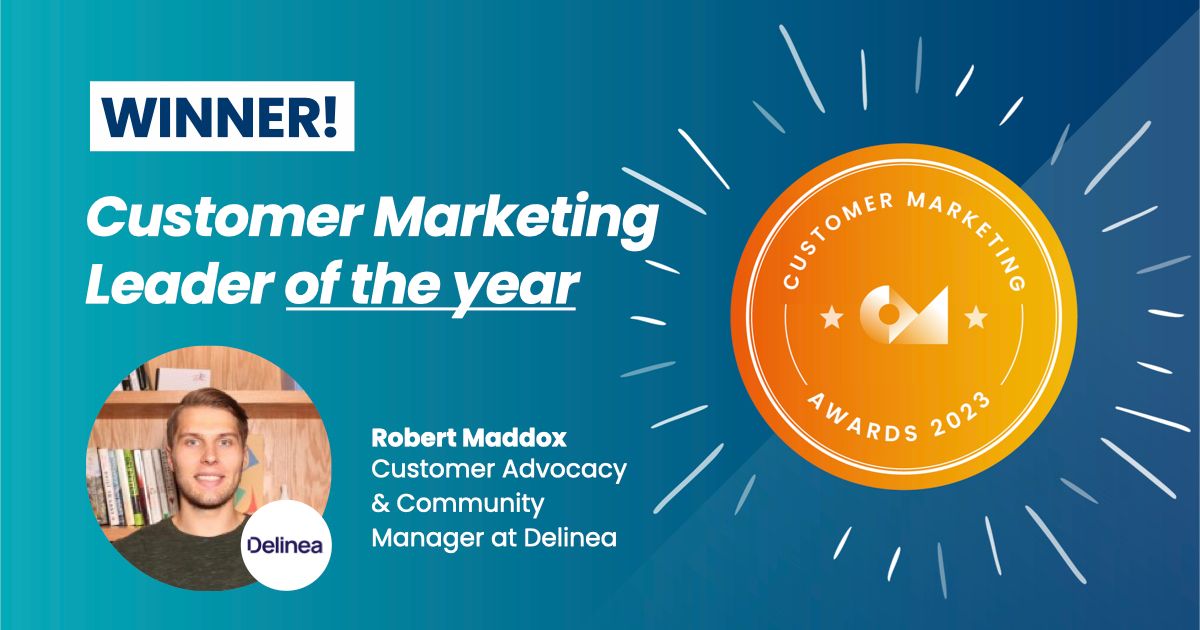 This award recognizes an individual who has demonstrated a profound understanding of customer marketing and has made a significant contribution to the growth and success of their organization. The title signifies their outstanding achievements and success within the customer marketing community.
Robert is a full-stack customer experience professional. He curates daily content and engagement opportunities for customers in his company's advocacy community. He also creates webinars and summits and currently holds the record at his company for the largest attended customer event.
He loves to not only connect with other professionals in this space but to connect them to each other as well. He's constantly looking to influence and positively impact his customers and peers - a true rising star in the space!
Congratulations, Robert! 🎊
---
Customer Advocacy MVP of the Year
And for our pick for Customer Advocacy MVP of the Year, we've got the consistently fantastic Dave Hansen, Global Advocacy Marketing Director at LRN.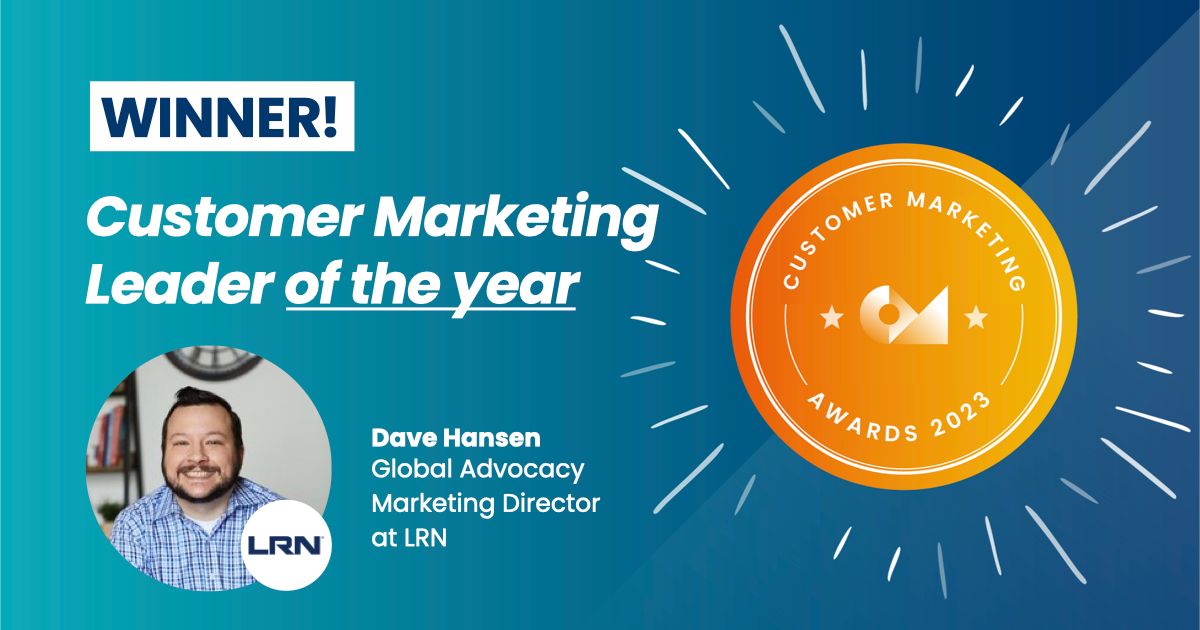 This title acknowledges an individual who has exhibited outstanding dedication, leadership, and impact in the domain of customer advocacy throughout a specific year. This title signifies their work toward mobilizing and empowering customers to advocate for the brand, fostering loyalty, and contributing to their company's reputation.
Dave's philosophy stems from the idea that engagement drives everything that is good about customer advocacy. With a steady hand, he's grown the LRN co: lab community (which was also recognized with a BAMMIE in 2022 for its successful launch) and is now seeing the fruit of his labor in terms of social proof, growth, and other acts of advocacy.
Congratulations, Dave! 🥳
---
Top Companies to Work in Customer Marketing
Now onto the team award!
This award aims to acknowledge the organization that is an exceptional workplace for professionals in the field of customer marketing. This recognition signifies that these companies have created environments where employees thrive and contribute effectively to customer marketing efforts.
This accolade illuminates the organizations that truly understand the pivotal role of customer marketing in their business. The winning company embodies the ideal combination of fostering talent, driving innovation, and fostering a remarkable company culture.
We are delighted to reveal that G2 has earned the coveted title of the top company for working in the realm of customer marketing. 🙌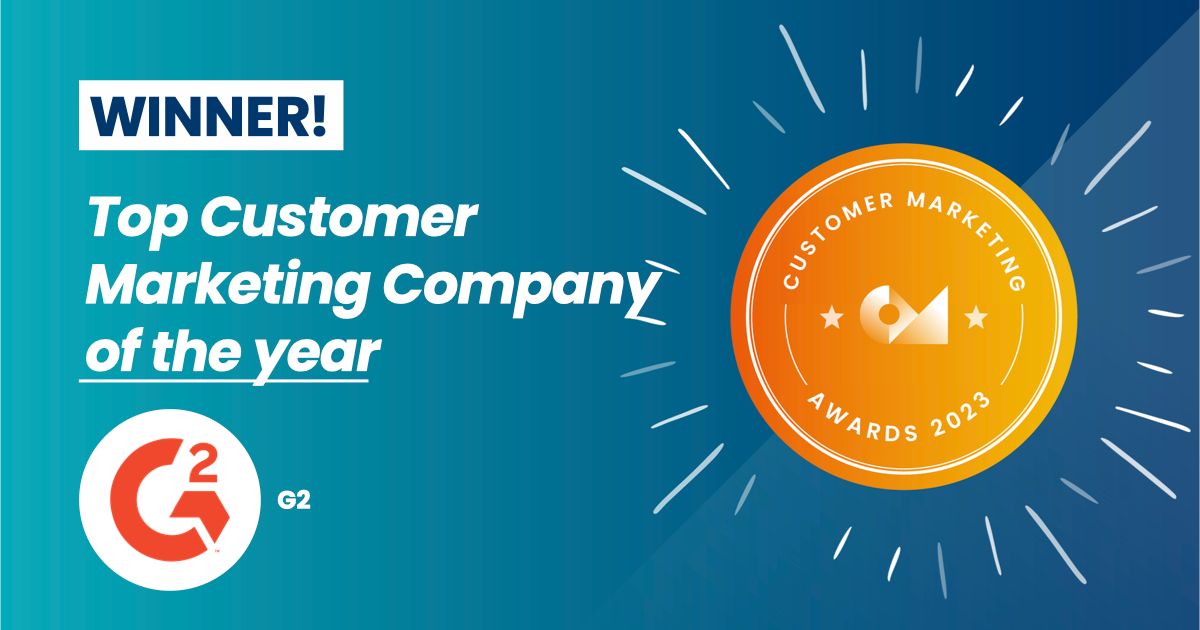 ---
Thank you! 🙏
Thank you to all who cast their votes and nominations in this year's Customer Marketing Awards. 🌟 We think it's crucial to shine a light on the phenomenal talent in our industry, and we're thrilled to show off the best in the Customer Marketing industry.
Stick around, because we'll be hosting these awards each year, with new categories on their way! Keep an eye out for those in your industry who deserve their chance in the spotlight. 🔦